Sahibinden: The Craigslist of Turkey
Published on 21 February 2020
Sahibinden (literally, "owners") is the Craigslist equivalent of Turkey.
Usage
In order to respond to listings (at least housing listings, in my experience), you do need access to a Turkish cellphone number. The site will ask you to enter a verification code that is texted to the Turkish number before you can respond.
Housing
Sahibinden's housing search is top-notch. In addition to the filters that one would expect such as flat type and price, it also allows filtering by furnished/unfurnished, renting from owner/broker, building age.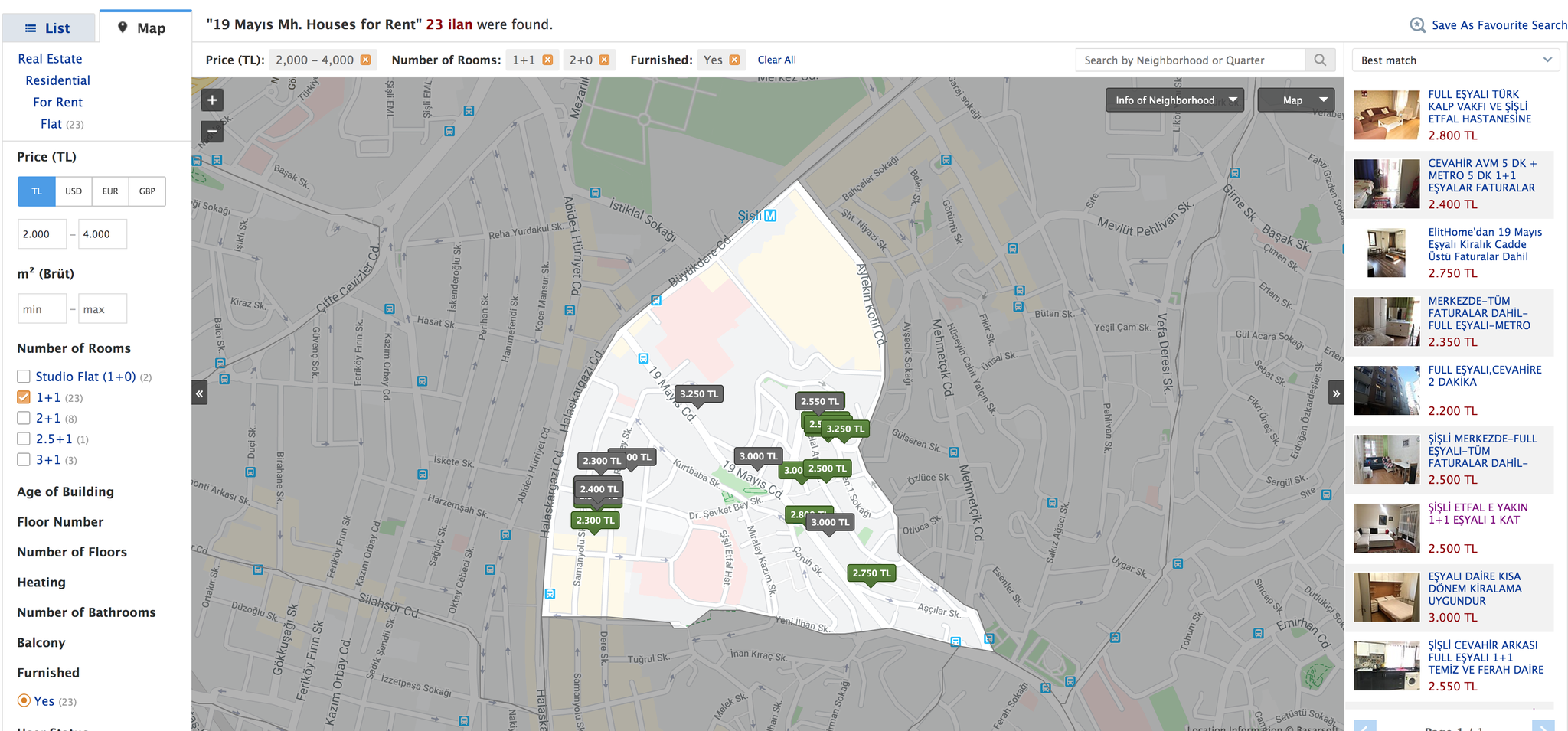 On a separate topic, finding housing in Istanbul has a number of options. I'd recommend reading this article, particularly on the difference between renting from a broker and an owner.
Note: I do dispute one part of this article. They say that renting through an owner usually has higher quality furnishing. At least in Sisli, my experience was the opposite: broker flats tended to be newer and have better furnishing. Most importantly, there were way more broker listings than owner listings, which meant that the options were "better" for my specific needs based purely on a higher volume of selection.
Avoiding shady housing deals
Like Craigslist, Sahibinden actually includes a warning about housing scams, though it's in Turkish. This notification is mostly common sense: don't wire money to anyone you haven't actually met.
I also found that some ads seemed to reuse pictures from other ads (e.g., two flats in different locations with the exact same pictures and different owners). Usually, one of them (I believe) is a scam. Longer-term accounts have a small award image for how long they've been on Sahibinden (e.g., 11 years); the shady ones had no such image. I'm not saying all accounts without the award are scams, but if you run into two ads with the same pictures, the legitimate one is probably the certified one.
My friend that lives in Istanbul also told me a few other things to watch out for when using Sahibinden for housing:
Renting daily flats through Sahibinden is difficult (even short- to medium- term can be a bit of a hassle, as many owners want stable tenants. However, when renting from a broker, they do like short-term tenants because they usually charge the full broker fee of one month's rent).
Posters will often post really nice looking pictures but the apartment actually looks a lot worse in person.